I'm often asked, wich one of these platforms to choose when redesigning a website.
The answer, of course, depends on your needs and goals. In my job at WaveCrest Finland, I recommend both of these platforms and we implement a lot of WordPress websites, even though we are a HubSpot partner agency.
WordPress
WordPress is the most popular CMS in the world. It was originally made as a blog platform, but due to it's flexible and open-source architecture, it can be tailored for many uses.
With tens of thousands of plugins and themes available, it can be easily turned in to an e-commerce platform or booking system for example.
The same thing that makes it great, can also be Its weakness. Let me explain…
At its core, WordPress is still a very simple blog CMS with very little additional functionality. All extra features need to be built into your theme by a developer or added in by using ready-made plugins.
Even the most basic features you'd expect are not included, for example:
Forms
SEO-tools
Multilingual support
Every new plugin is essentially a new piece of software running on top of your WordPress core. They can slow down your your site performance put your it under a security risk.
Over 50% of WordPress security vulnerabilities come from plugins, so you should consider very carefully what plugins to install.
HubSpot
HubSpot, on the other hand, was originally built as a marketing automation system for inbound marketing. It also has a long history as a blogging platform, but HubSpot has always included a lot of other tools essential to content marketing.
Today, HubSpot is a complete ecosystem combining sales, marketing, and customer service. It can be easily linked to other systems and tools with various ready-made integrations and apps available in the HubSpot marketplace.
HubSpot's website extension HubSpot CMS is also available as a standalone package, making it a truly competitive alternative to WordPress.
HubSpot CMS includues:
Form tool
Call to actions
SEO-tools
Modular drag & drop editor
Smart content
Free CRM
Staging environment
HubDB database
It does have it's limitations as the back-end is not customizable in the same way you can modify the PHP code running WordPress. However, HubSpot includes an open API that allows you to bring in data from other systems.
Sivupohjien ja moduulien kehitykseen käytetään omaa Hubl-skriptikieltä. Sen avuulla ulkoasua ja käyttöliittymän toiminnallisuuksia voidaan muokata todella joustavasti.
HbuSpot has its own Hubl scripting language to develop page templates and modules. It allows you to customize the look and functionality of the user experience with great flexibility.
HubSpot vs WordPress feature comparison
First, lets look at the themes as both platforms use them to change how your website looks and behaves.
WordPress themes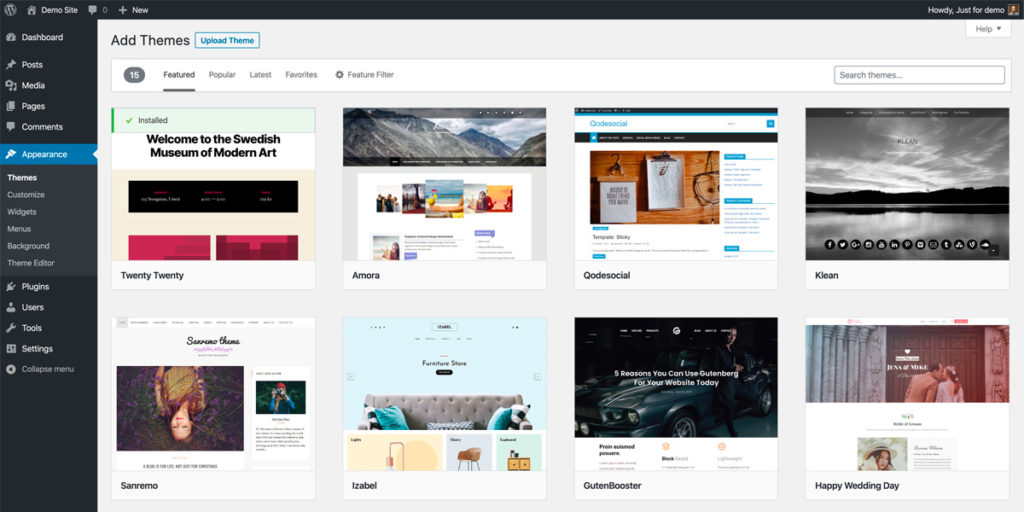 You can browse and install themes easily within the WordPress control panel.
You can get a lot of ready-made themes for WordPress, but you can also develop them yourself. By hiring a professional developer, themes can be tailored to match your brand and desired functionality.
On the other hand, if your budget is tight and you are willing to make some compromises, a pre-made theme can be just fine. Good premium themes usually cost money and are available from a variety of sources. The most popular theme marketplace is Envato's ThemeForest, where themes typically cost around $50 and can be found in great quantities.
Another way to build your site is by using page builders, which are often sold on a monthly or yearly license. These completely replace WordPress's own page editor. I have used a Divi page builder a lot, which also works with your standard WordPress editor.
If going with a pre-built theme, you should choose it carefully, as you are dependent on updates provided by the theme developer.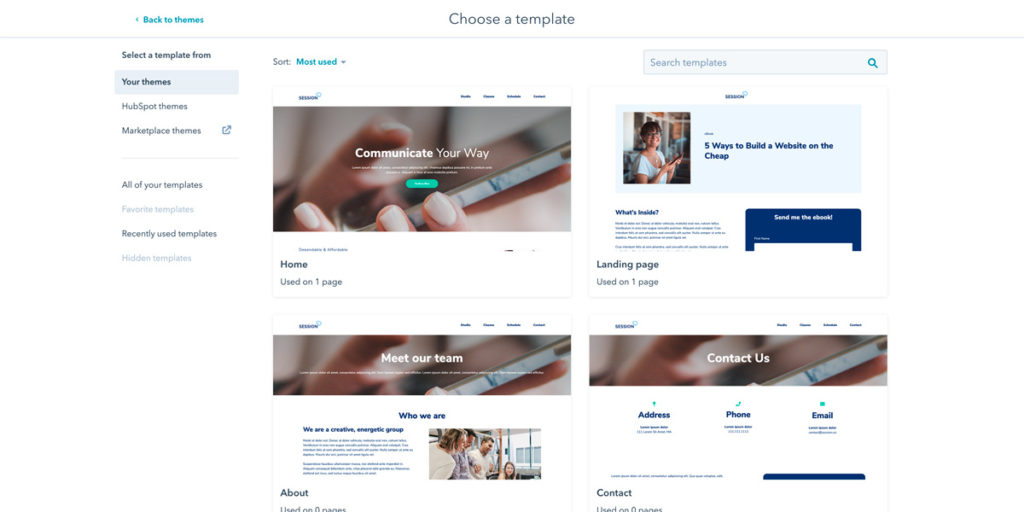 HubSpot too, comes with some free themes
HubSpot's sales process is very strongly tied around a partner model, where selected partners offer HubSpot platform as part of their own service offering. Therefore a majority of websites on HubSpot's platform are built and maintained by professional partner agencies.
However, the HubSpot CMS can be deployed by anyone and it even comes with a few free themes that can be easily customized to suit your own look. Themes can also be purchased from HubSpot's own marketplace in the same way as for WordPress.
Page editor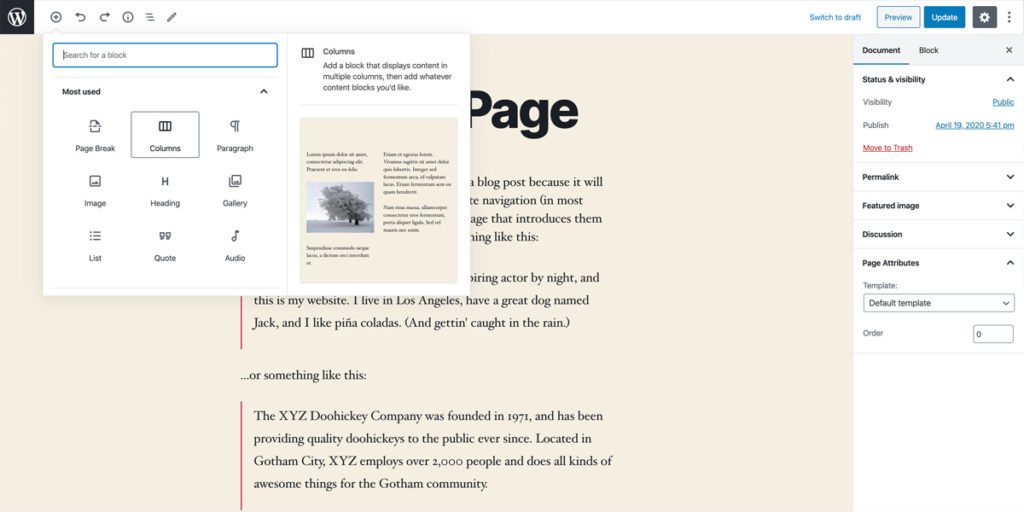 WordPressin uusi moduulipohjainen Gutenberg editori on todella mielyttävä käyttää ja sillä onnistuu myös monimutkaisempien palstojen tekeminen. Omien moduulien kehittäminen onnistuu vain kokoneelta koodarilta, mutta moduuleita löytyy myös valmiiden laajennusten muodossa.
WordPress as a new module-based Gutenberg editor, wich is really enjoyable to use and you can use it to create more complex multi-column layouts. Developing your own custom modules requires some serious web development skills, but there are plenty of plugins that give you extra modules to work with.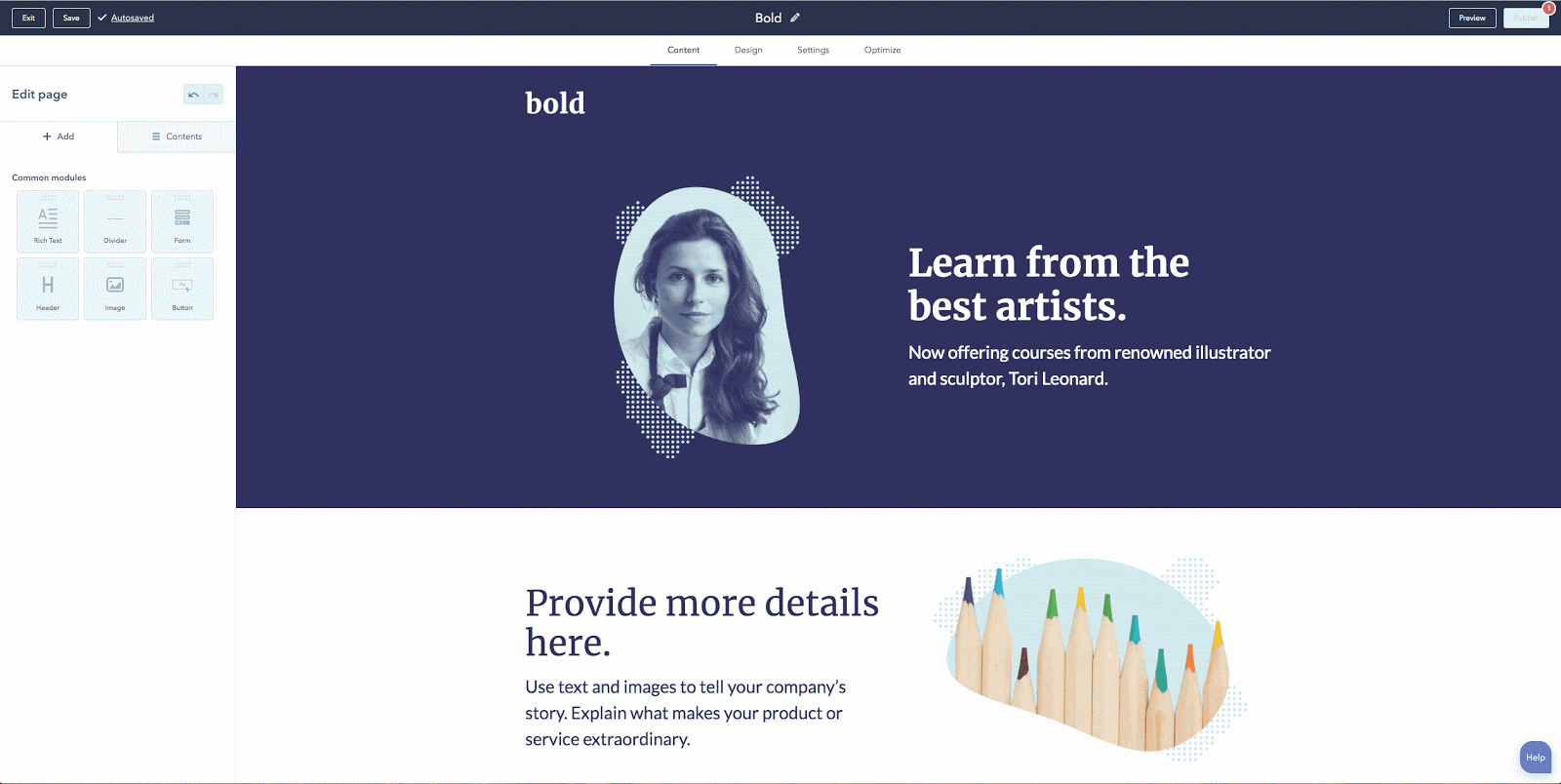 The HubSpot editor is also module-based and really easy to use. It is much more visual than a WordPress editor and displays the entire page layout and not just the editable content area. Building the modules themselves is also much easier and more ready-made add-on modules are available on the HubSpot marketplace.
Blogging experience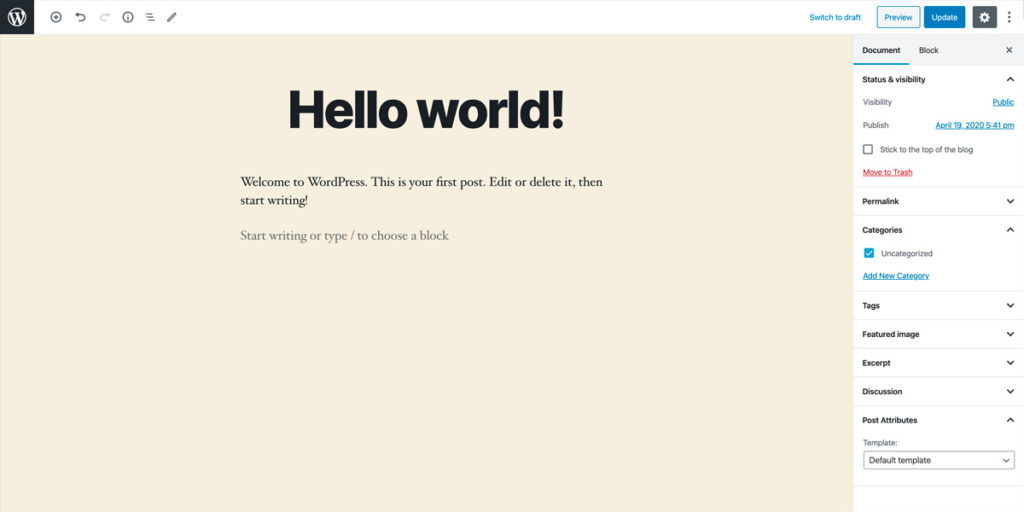 In WordPress, blogs live under a single article menu and can be categorized using categories and tags. The blog editing experience is almost identical to the page editor apart from a few advanced options for categories and tags.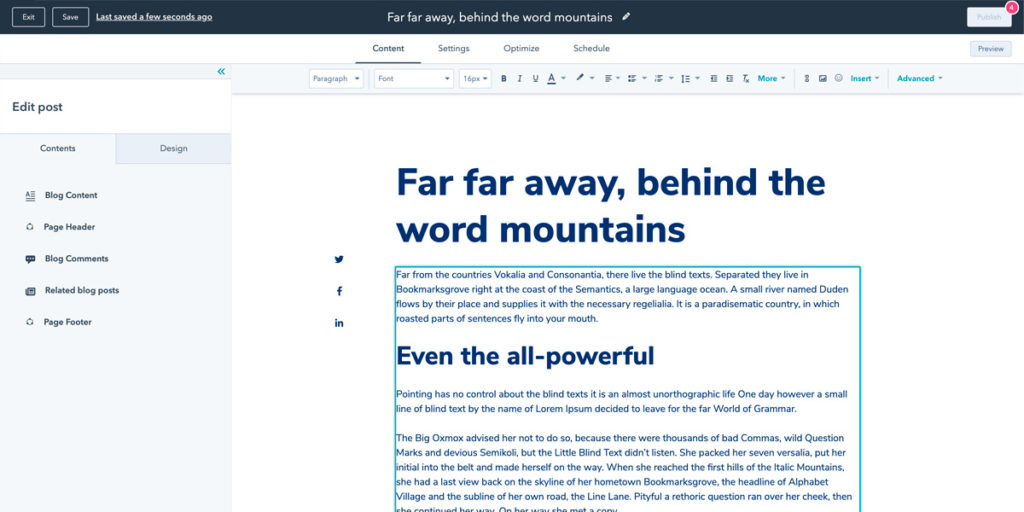 In HubSpot, you can create multiple blogs and have completely different page and listing templates. For example, press releases and case studies can be made as separate blogs because their appearance and listing method may differ from a normal blog article.
The blog editing experience itself is more simplified than page editing, as a blog usually has only a title and one content field, unless you specifically want to add other standard elements to the page template. The content editor has all the common formatting tools and can also embed videos, call-to-actions, and third-party embed codes.
Other content types
In WordPress, it is also possible to create your own content types, but this requires coding skills or the use of separate plug-ins.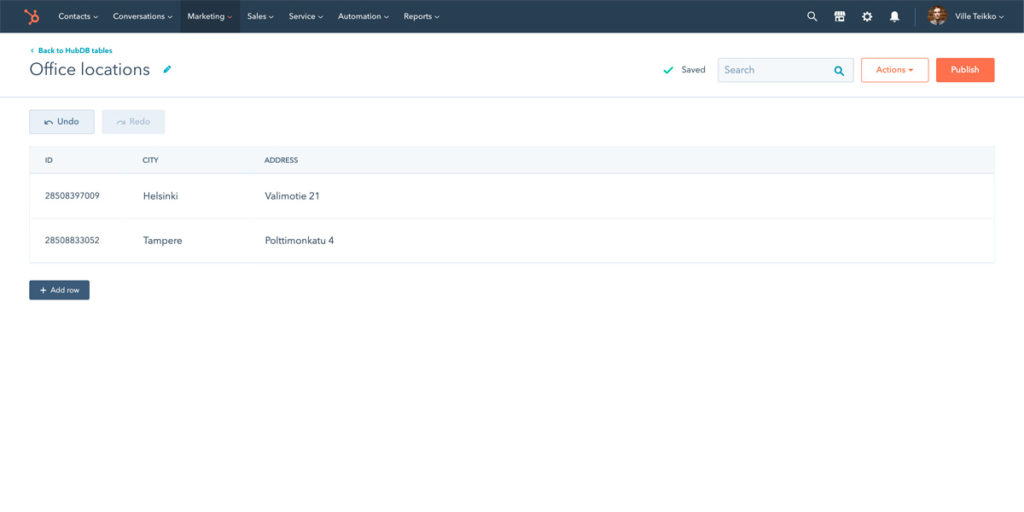 HubSpot's HubDB is a simple database where you can create your own tables and use them to create dynamic pages. This enables, for example, the simple maintenance of a small product catalog, office location listing, or other data.
SEO-tools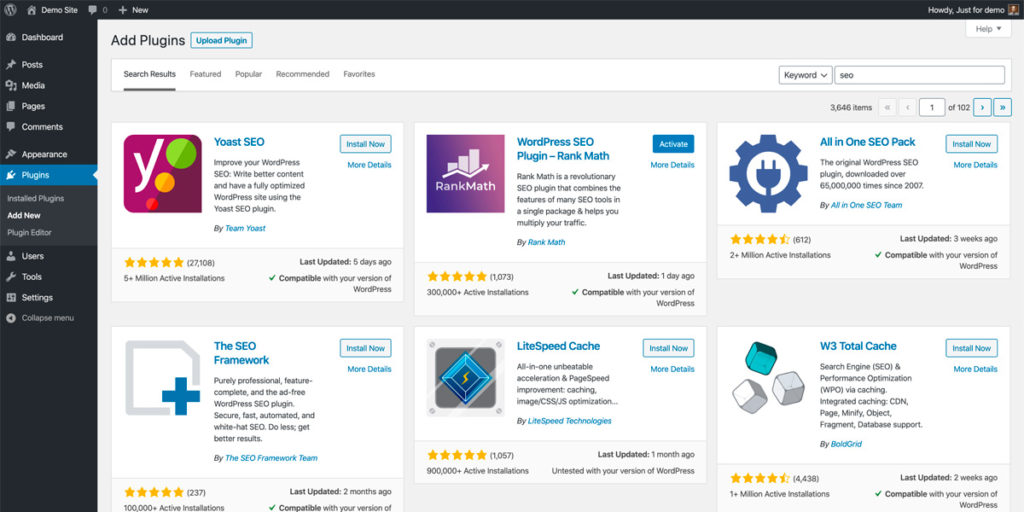 WordPress does not come with any built-in SEO-tools, but there are several plugins available that make it easier to optimize content for search engines. Personally, I use the Rank Math plugin shown in the picture, as well as SEMRush's SEO writing Assistant plug-in, which gives search term-specific suggestions such as what other relevant keywords you should be mentioning in the content and what is sufficient text length compared to competing sites.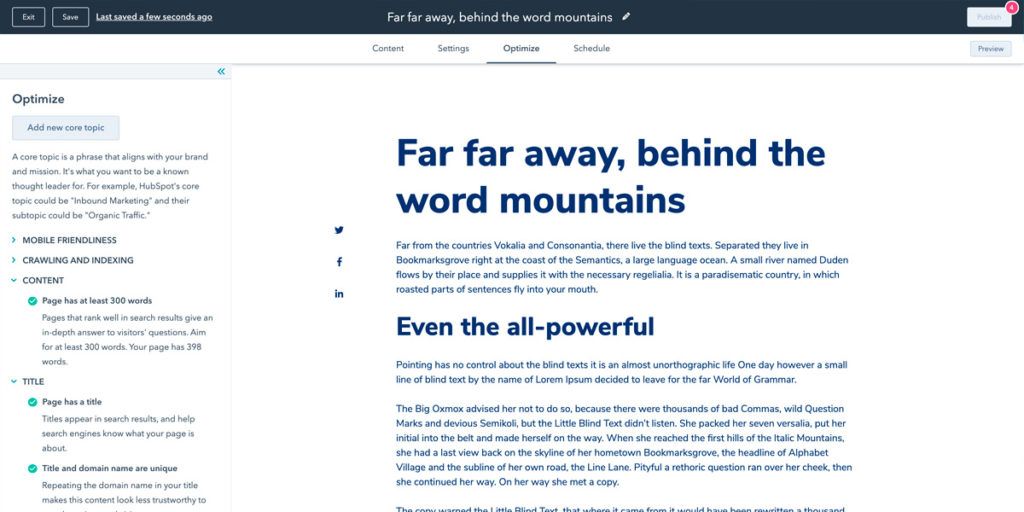 HubSpotin seo-työkalu eroaa merkittävästi WordPressin laajennuksista, sillä yleisten vinkkien llisäksi se auttaa sinua myös suunnittelemaan ja ryhmittelemään sisältöä. Työkalu auttaa löytämään aihealueeseen liittyvä hakutermejä ja kertoo kuinka niiden hakumäärät. Eli käytännössä voit tehdä sillä myös avainsanatutkimuksen.
HubSpot's SEO-tools differ significantly from WordPress plug-ins. In addition to general tips, it also helps you plan and group content. The tool helps you find search terms related to a topic and tells you search volumes for them. In other words, it helps you create your content strategy and keyword research.
Forms
WordPress does not have a form editor, but there are several plugins available. They are generally free, but special features and Integrations often require upgrading to a paid version. If you want to collect email leads you naturally need your own email marketing tool, however, most of them offer forms that are easy to embed in WordPress.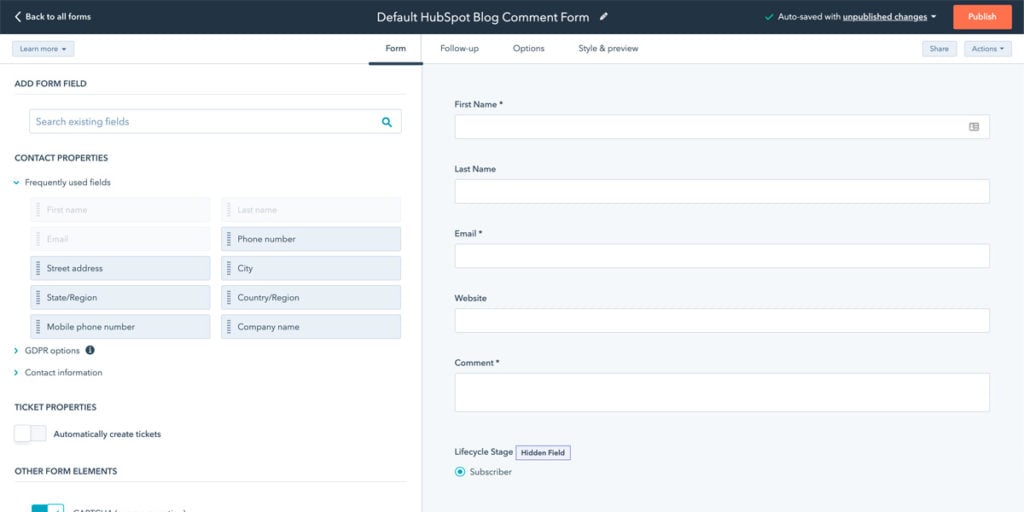 HubSpot includes an easy to use form editor where you can set up instant reminders via email and the submitted data gets stored directly in HubSpot's contact database. Forms can also be set pu to send automated follow-up emails, for example, delivering a downloadable content or for more personalized and complex marketing automation depending on which Marketing Hub license you are on. The form can also be turned into a customer service ticket.
Call to actions
WordPress does not have a specific feature for this. Of course, you can always add a button or banner image and link it to the page you want, but there is no analytics of any, unless you build it yourself in Google Analytics, for example.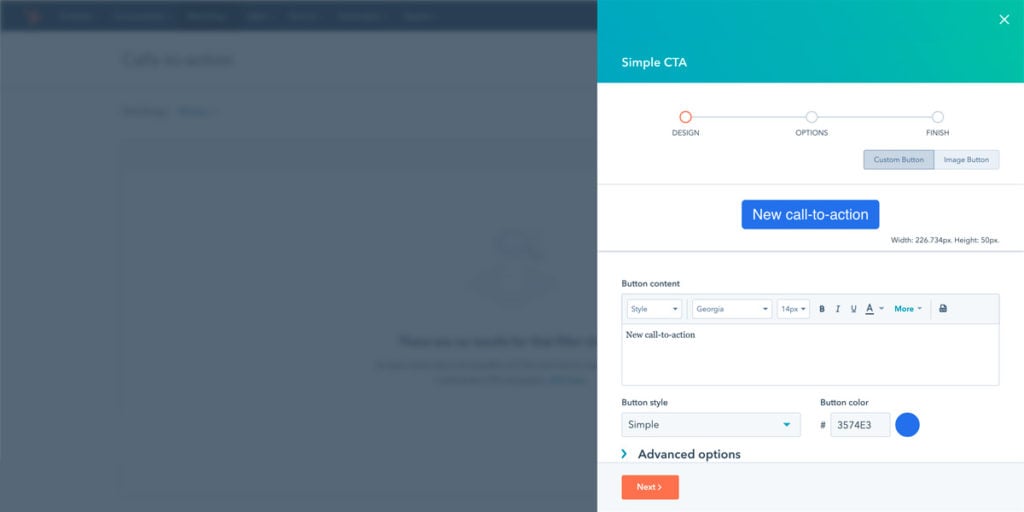 HubSpot has its own tool for call-to-actions where you can make various buttons and banners that link to your landing pages. The stats of these can be found under the CTA-tool itself, or from the analyze tab under the specific page where they are embedded.
Smart content
In WordPress, this is not possible without separate add-ons.
In HubSpot, the website and the contact register are on the same platform, so it is possible to personalize the content for different user groups. Your customer visiting the website may be shown slightly different content than a completely new visitor. Content can also be personalized based on the visitor's location and device.
Email marketing
WordPress doesn't include an email tool, but most email platforms have their own WordPress plug-in that makes collecting leads and triggering automation pretty easy.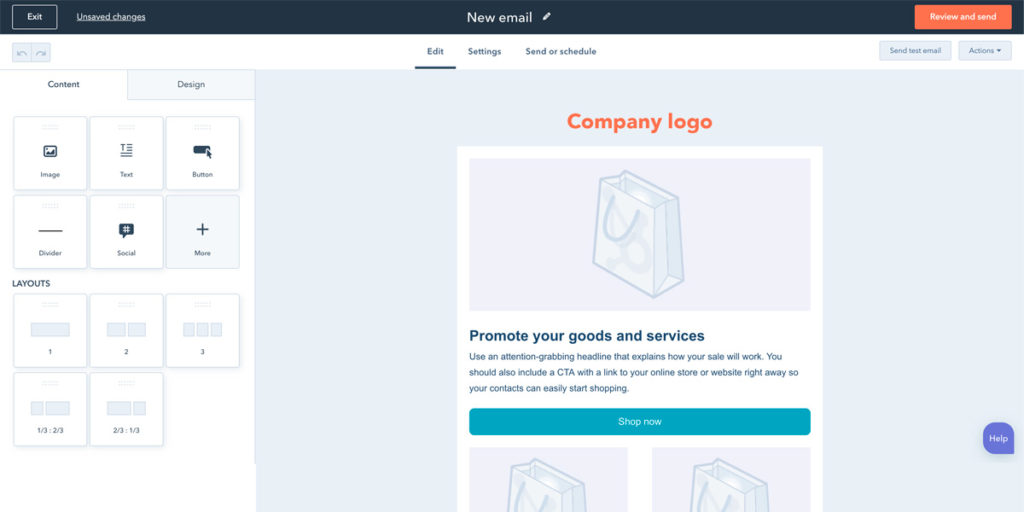 HubSpot includes an email tool, so downloading a guide or other lead magnet from a page, for example, is really easy to implement. You can also send a newsletter conveniently in the same platform and lists can also be segmented based on website visits.
Staging environment
HubSpot comes with a separate development environment where you can edit and test new pages or existing content before they are actually published.
Theme development, on the other hand, takes place within the tool, but for those website developers who want to use version control and their own development tools, a local development environment is available.
WordPress does not have this kind of functionality, but of course, several web hosting providers allow a second installation for development purposes. However, a single page cannot be moved from one environment to another as easily as in HubSpot.
Sales tools and CRM
WordPress does not have a sales or marketing contact register, however, most CRM systems can be integrated in some level.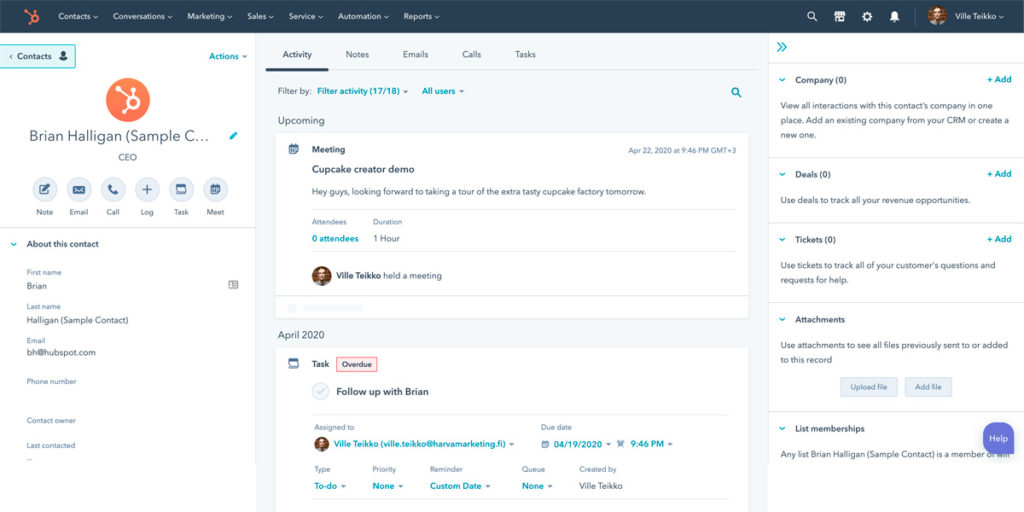 The free CRM is at the core of all HubSpot tools. All web page analytics can be traced down to the user level and therefore any visits to the website are shown in the contact register similar toany other activity.
Chat and customer service
In WordPress, none of this is built-in as a standard feature, but various chat services and ticketing solutions can be integrated.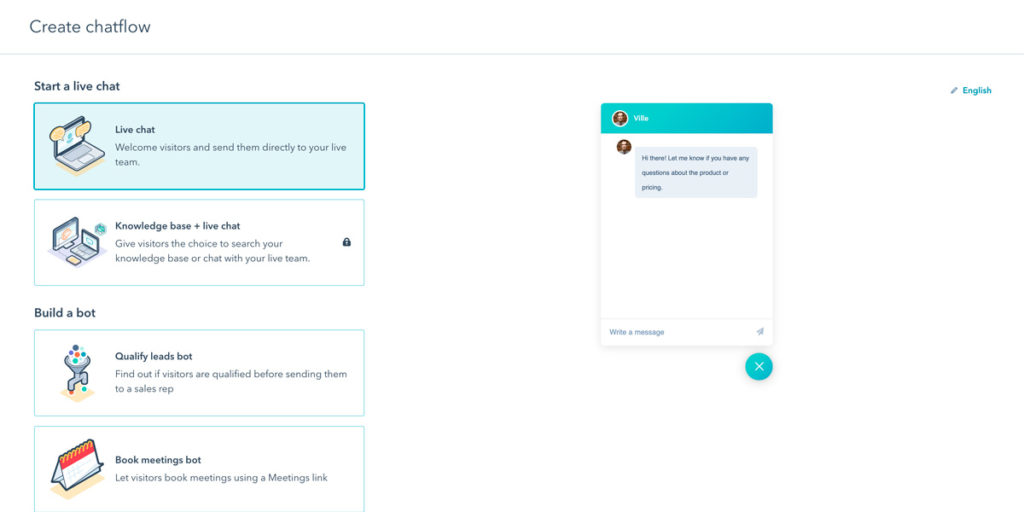 HubSpot comes with a conversations tool to bring live chats and chat bots to the site. In addition, a ticketing tool is included to which customer feedback form or chat can be routed. However, you are not bound to use HubSpot's own tools. Any other services can be used and some of them even integrate fully with HubSpot's contact register.
HubSpot vs WordPress cost comparison
Both systems very extensive and the price varies depending on your desired functionalities. While WordPress is free, it comes with a lot of different costs in terms of maintenance work, hosting services, and additional license fees.
The pricing of the HubSpot CMS package itself is very straight-forward, but the overall license can increase significantly if other Hubs are in use.
The real cost of WordPress
Although WordPress itself is free, there are costs involved in maintaining it.
You should choose your site's web hosting carefully, because WordPress requires an optimized environment to run smoothly.
A simple personal blog can run fine with a few dollars a month package from BlueHost for example. But if you are running a real business, I would highly recommend investing in a professional WordPress service like Kinsta.
Depending on the functionalities of the add-ons and the theme, it is worth budgeting for at least a few hours of professional maintenance work per month.
This way, you are prepared for the worst when the code needs updating or a plugin causes a conflict.
There may also be license fees for various plugins, which should be taken into account and when budgeting your platform cost.
How much does HubSpot CMS cost?
HubSpot CMS alone as a standalone package cost $300 / month, which is not that much more than WordPress considering the maintenance work. The basic marketing add-on of $50 / month gets you email marketing.
These will get you started and you can later upgrade to more robust marketing automation.
HubSpot offers a 14-day free trial, so you can try it before you buy and therer is no credit card requuired to activate the trial.
Which one is right for you?
If your website is designed to acquire new sales leads or take care of your existing customers, I highly recommend visiting HubSpot.
For purely informative site or brand exposure, WordPress may be a better option. Also, it makes no sense for a blogger to pay for a HubSpot license if there is no clear commercial value for every lead acquired as the pricing is based on number of contacts on your database.
For example, I have built this website on top of WordPress and Divi theme instead of HubSpot.
HubSpot is not suitable for building e-commerce websites or complex implementations that require software development, while WordPress does it pretty well.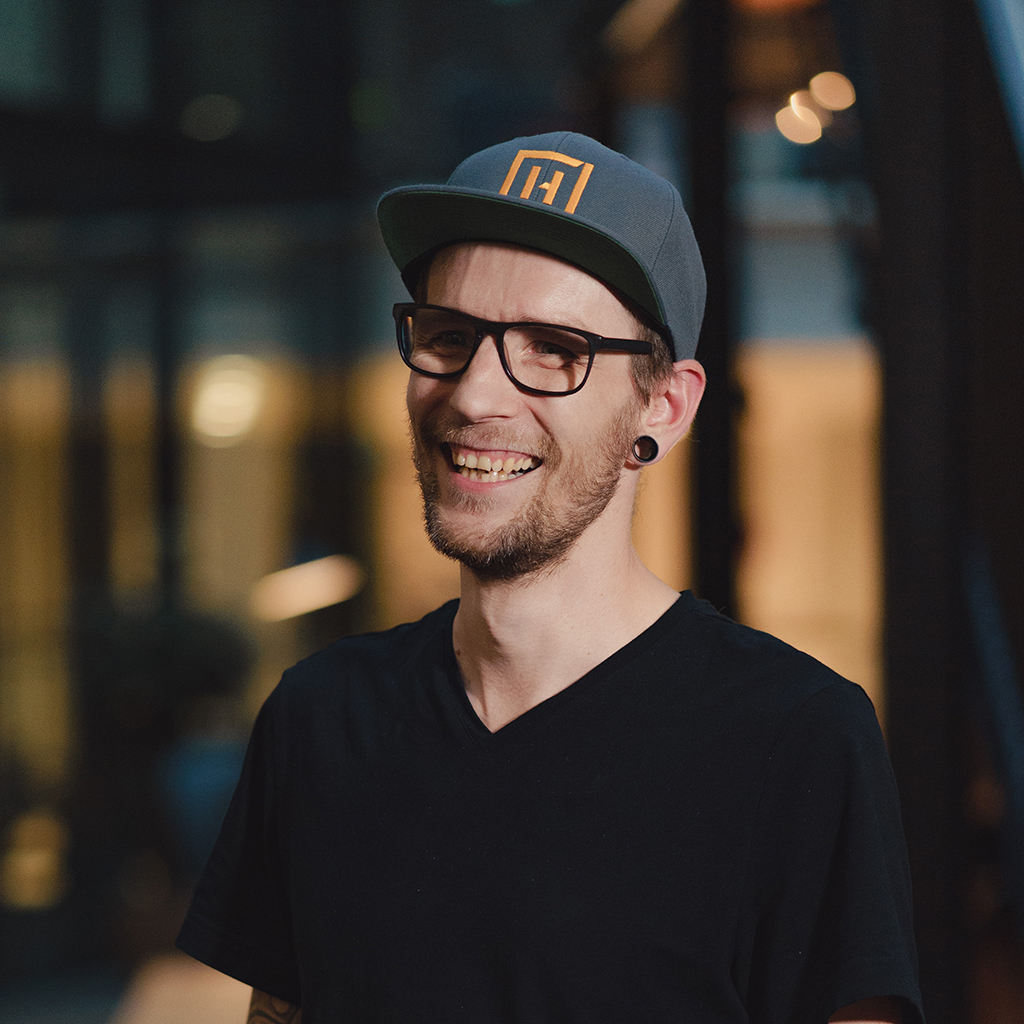 Ville Teikko
Ville Teikko is an award-winning creative & digital marketing specialist with over 20 years of experience in the digital design and advertising industry. Currently working as a Head of Digital at WaveCrest Finland.