ClickFunnels is a popular sales funnel builder that lets you market and sell your product or service online, without having to hire programmers and designers.
It's extremely popular among internet marketers and content creators, but it's not perfect for everyone. Even though it has a lot of features built-in, it is not an all-in-one marketing and sales platform.
If you are looking for an alternative, keep reading as I will share with you 13 of the best alternatives to ClickFunnels ranging from cheaper (and even free) options to more advanced all-in-one marketing platforms.
But before we start…
What is ClickFunnels?
ClickFunnels is a sales funnel builder that, according to their own website, lets you:
Quickly create beautiful sales funnels that convert your visitors into leads and then customers (without having to hire or rely on a tech team).
It's an easy to use drag and drop page builder that lets you create online sales funnels in a matter of minutes.
You can select and customize your own sales funnel from a selection of ready-made templates that are tested and proven to convert.
Here are just few of the funnel types you can creat:
Squeeze pages for collecting emails.
Automated webinar funnels
Sales funnels with built-in shopping cart and 1 click upsells
Membership site funnels
Not to mention that you can easily split test different funnels with just a few clicks.
Building these types of advanced funnels used to require a lot of time and money to hire a team of designers and programmers.
There are however many other tools available that promise the same 5 minute funnel builder experience as ClickFunnels.
What they don't do, is teach you the strategies and mindset required to be successful at selling and marketing online.
This is what truly sets ClickFunnels apart from the competition.
ClickFunnels comes with FunnelFlicks, where you can watch courses and trainings from the most brilliant minds in marketing and personal development.
After all, tools are just tools. Having the right mindset and motivation to do what you need to do is what sets you for success.
If ClickFunnels is so great, why would you want an alternative?
Not everyone likes ClickFunnels and there can be many reasons why it's not what you are looking for. However, usually it is eather one of these two things:
1. It's too expensive
ClickFunnels is priced at $97 or $297 a month, depending on the plan. If you are just starting up with a new business or don't have much to spend, it's can be a big monthly expense.
Good news is, that there are cheaper options available, some one-time purchase and some free.
2. Need more, or better features
Another reason to switch might be that it's missing some key features or you need more control over the building experience.
After all, it's a sales funnel builder, not an all-in-one marketing or sales platform.
Top 13 ClickFunnels alternatives
There are so many different alternatives comparable to ClickFunnels and what's right for you depends so much on your needs and requirements.
To make things a little easier I've broken these into different categories.
Landing page builders
First, let's cover the obvious – other page builder services that have been around long before ClickFunnels came alog.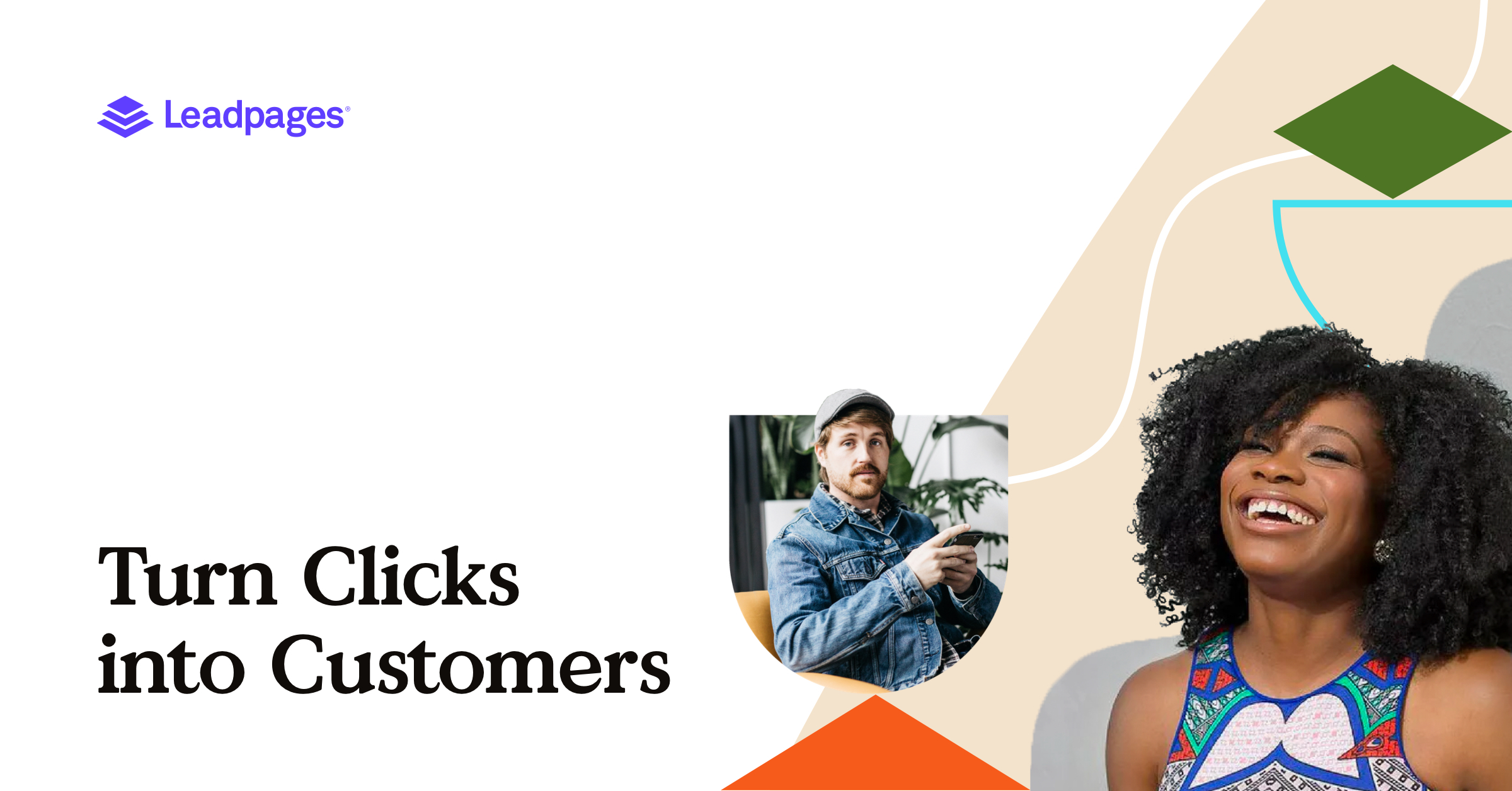 Leadpages
This one is built for a similar demographic, small businesses that want to build sales and landing pages without needing to code.
You can collect payments with it as it does offer itegrations to most common payment processors. But if you want to build more complicated up-sells or order bumps then ClickFunnels may be a better option.
The pricing is much lower, starting at $25 /month for annual plan.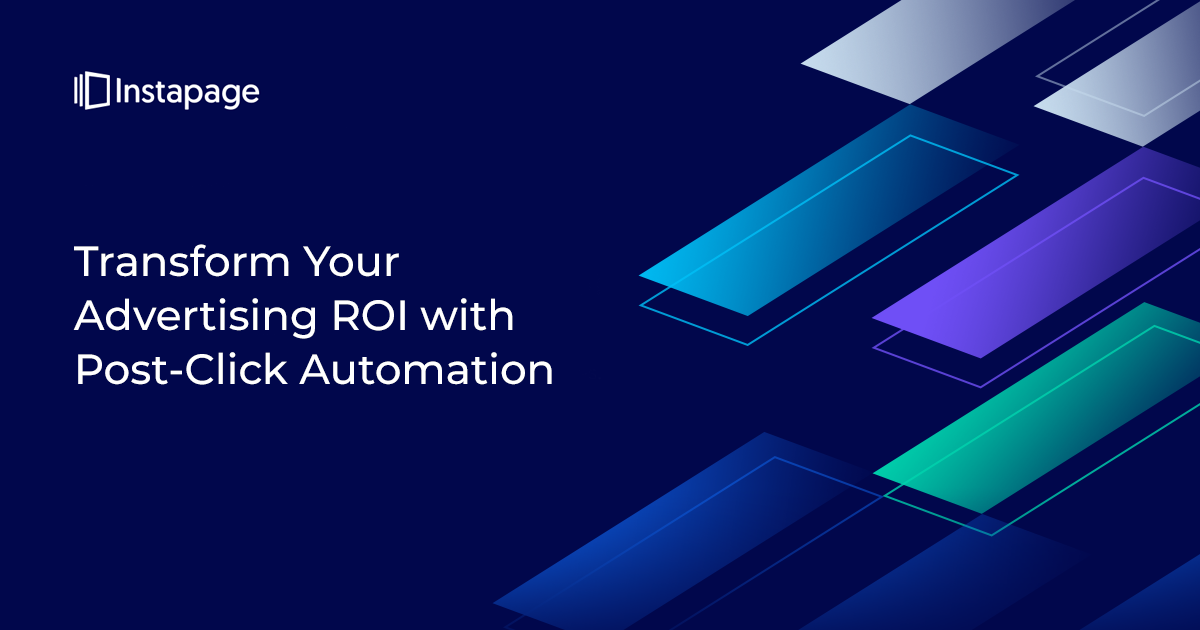 Instapage
Instapage is similar but targeted towards bigger businesses and marketing agencies who want to make ultra-optimized landing pages for their ads.
The basic plan is $149/month on annual subscription, but it does not come with more advanced features like AMP pages advanced tracking that requires an enterprise plan.
This is a good option if you are a larger corporation or a digital marketing agency running a lot of paid ad traffic to simple landing pages to collect leads.
Unbounce
Unbounce is similar to Leadpages in features, which one is better depends on how many pages and domains you need. The pricing starts at $79/month allowing you to run 75 landing pages.
Unbounce too is just a landing page builder. And while you can collect simple payments with it, ClickFunnels may be a better option if you are selling digital products.
All-in-one platforms
If you are looking for a platform that does more than just landing pages these platforms aim to offer almost every feature you need to run your business.
HubSpot Growth Platform
For those who are looking for an all-in-one solution, HubSpot is a great option to consider. Especially if your marketing is based around content marketing and getting high quality leads to your sales team.
HubSpot practically invented the term inbound marketing and is by far the best platform to run your blog and lead generation efforts on. It includes all the marketing tools that you need to promote your content from social media posts to SEO.
They have recently announced some features like buy now button and membership pages that make it really good alternative to ClickFunnels if you need an all-in-one platform to run your entire business on.
HubSpot is definitely the priciest option on this list, but they do offer a free plan for all their hubs and the CRM is always free.
Kartra
Karta is a fairly new platform that is a direct ClickFunnels challenger. It offers same features as ClickFunnels more expensive platinum plan but for a starting price of just $99/month. The pricing increases with the amount of leads and pages you need and the biggest plan is $499/month.
There is no free trial, but they do offer a 30 day trial for just $1, which is practically free.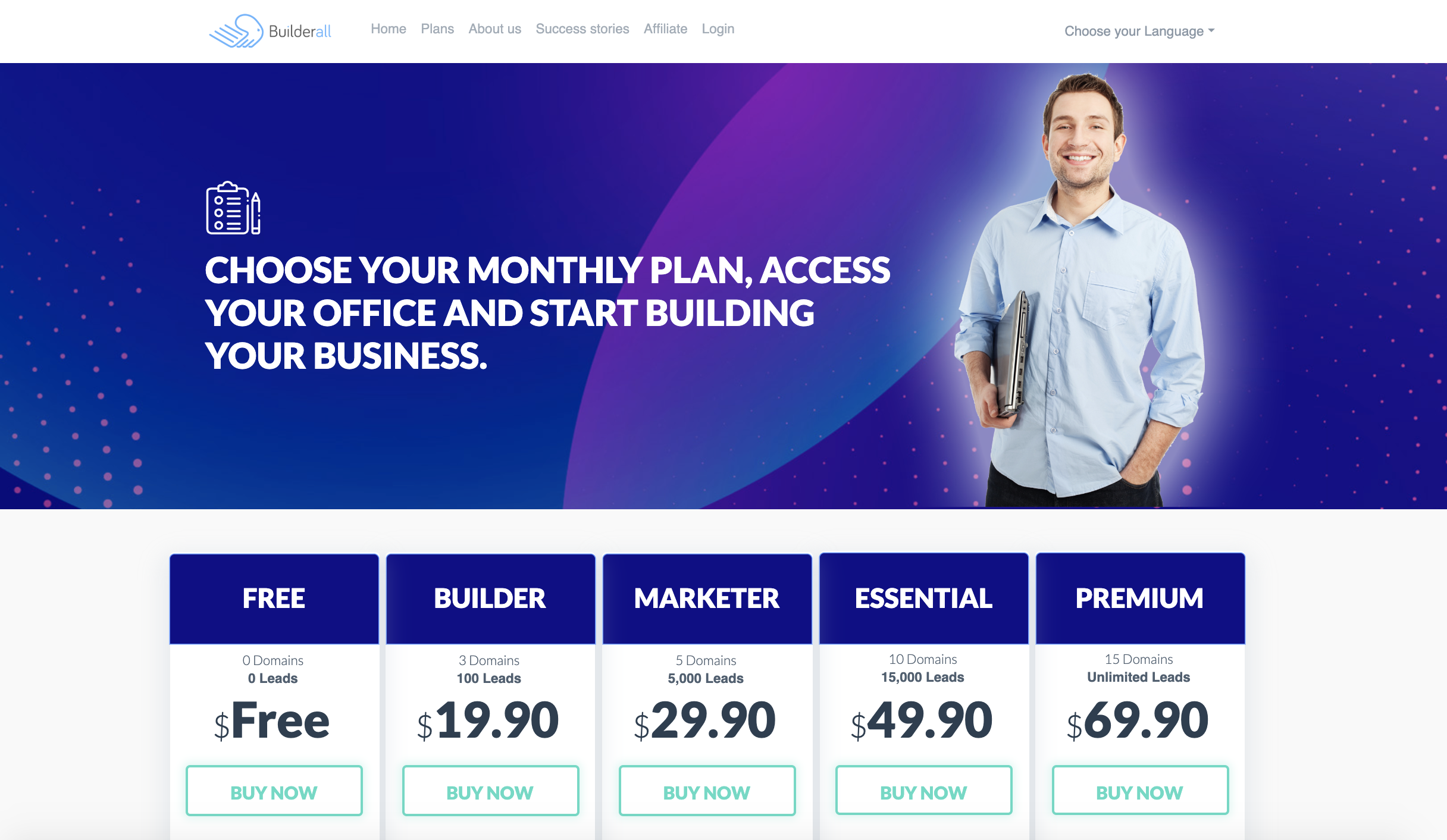 Builderall
Builderall is an extremely affordable alternative to ClickFunnels that promises all the same features plus a lot more, including a sales CRM, customer service, and ticketing to mention few.
In fact, there are so many features inside, that it can be a little overwhelming. They offer a free plan so you can try it out completely risk-free. Paid plans start from $19.90/month and the most expensive premium plan cost no more than $69.90, which is still considerably less than ClikFunnel's basic plan at $97 a month.
With so many features at this low price, it makes you question the quality and reliability. On the other hand, it's free, so why not try it out?
WordPress page builders
If you are heavily invested in WordPress, running your website already on the platform then it makes sense to pick up a landing page builder that runs on the same platform.
While ClickFunnels and other landing page platforms mentioned previously all include a WordPress plugin to publish your pages directly to your WordPress, site, you still need to build and manage them elsewhere.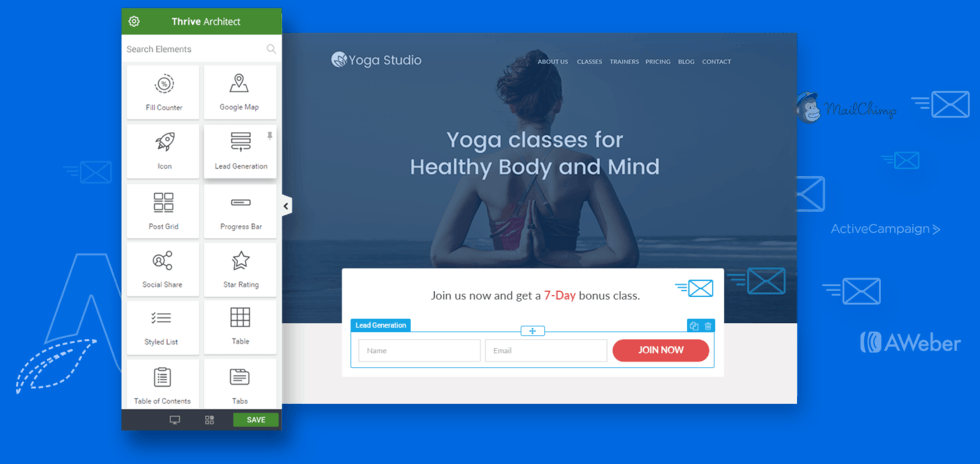 Thrive Architect
Thrive Themes Thrive architect is out of the WordPress based builders most similar to ClickFunnels, as it offers ready-made funnel templates and a lot of the modules are designed to increase your landing page conversions.
There is no built-in shopping cart or checkout page, but as it runs on top of WordPress, there are always ways to add those in with other plugins.
Thrive architect can be bought as a single starting at $67 for a single site license that gives you access to the plugin only, or you can get the $19/month Thrive subscription which gives you access to all their themes and plugins.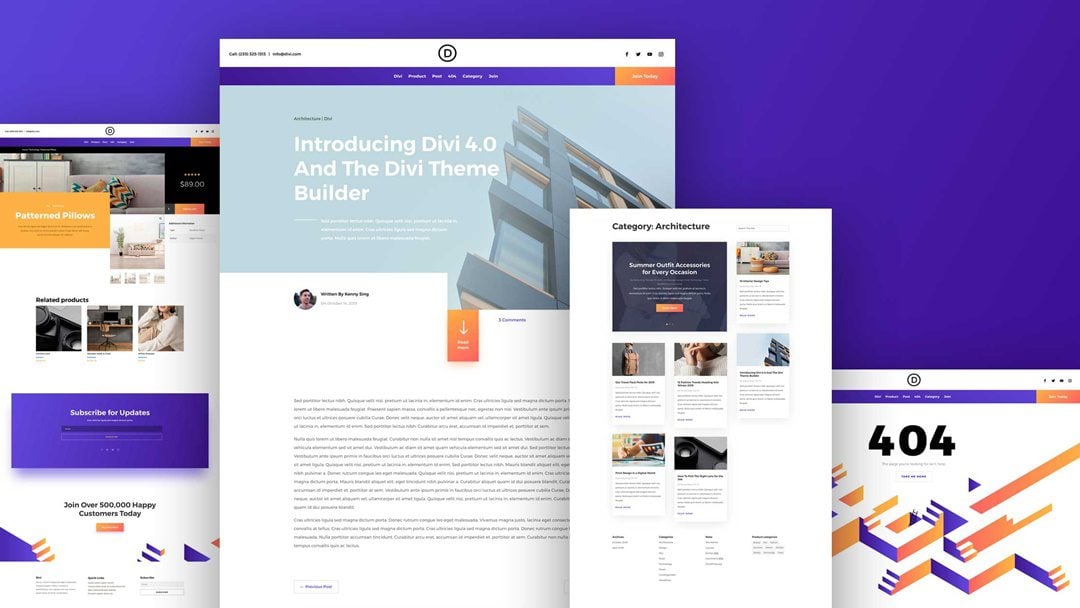 Divi
Divi is a website page builder, I'm including this as it's my personal favorite out of all the WordPress page builder plugins. While it will not build you a sales funnel out of the box, you can definitely make some great landing pages with it and it has really good opt-in module that integrates with most common email autoresponders.
This is a particularly good option if you want to build your entire website using the same builder, and use you're landing pages to generate leads.
Divi is available as a customizable WordPress theme or standalone plugin that works on top of your current theme.
It does work with WooCommerce too if you want to sell physical or info-products and process payments.
Divi is priced at $89/year or single payment of $249 for a lifetime plan. There is no limit on the number of sites you can install it. This makes it a great option for agencies and freelancers building WordPress websites.
OptimizePress
OptizePress is another page builder designed to specifically to build landing pages and sales funnels. It's designed to help you optimize your conversions and comes with built-in payment processors.
The pricing is simple $199/ year for the whole package.
There is no free trial, but you can watch a demo of how it works.
Email platforms
If you mostly do lead generation on your landing pages and build your funnels as email automations, then all you might need is a good email autoresponder that includes a decent landing page builder.
Today, almost every email platform offers landing pages so there are plenty to choose from.
GetResponse
GetResponse is a great email tool that also includes a landing page builder. It has a very nice visual email automation builder that makes building your email funnels really fun.
Their are know for the good email deliverability and great drag & drop builder.
The pricing starts at $15 / month and you can save up to 30% when opting into a longer-term contract.
They also offer a free 14-day trial so you can try it before you buy.
ActivieCampaign
Active campaign is similar to GetResponse, but in addition it offers some basic CRM features and offers a Salesforce integration for more advanced needs.
The pricing starts at just $9 /month or $49 if you want the CRM features.
They too, offer a 14-day trial so go on and give it a try!
ConvertKit
ConverKit is very popular email platform among bloggers and it does include a pretty good landing page builder.
They recently launched a free plan so if you are just starting or have a small list, you might want to give it a try.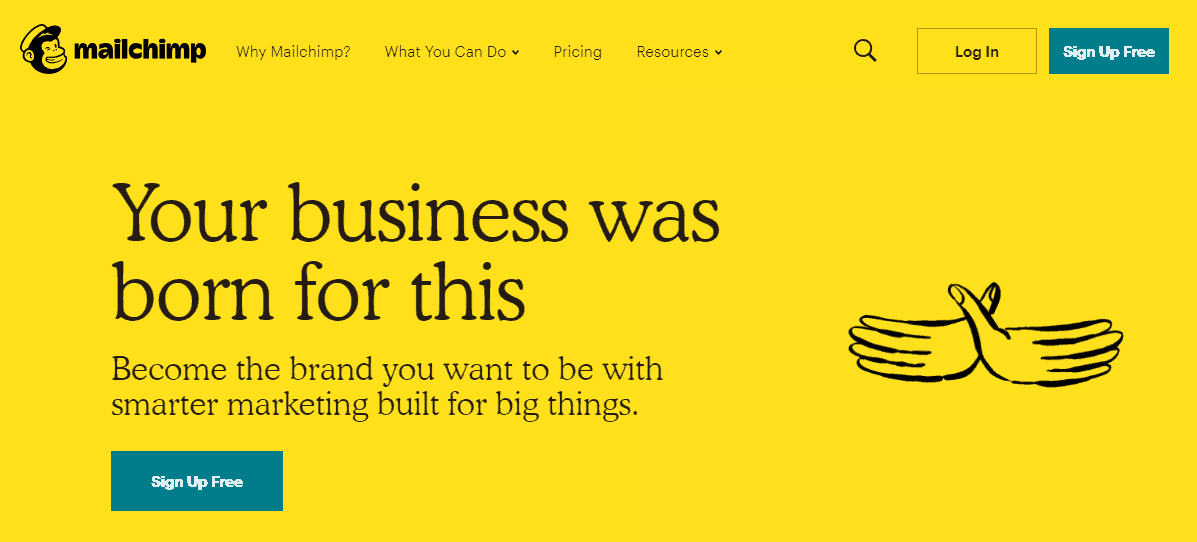 MailChimp
Let's not forget the good old MailChimp. It's easy to use and offers pretty good tools to build email automation. You can build decent landing pages with it, while it's not my favorite.
They offer a free plan, but you need to opt-in for the paid subscription to connect using your own domain for landing pages.
Pricing is based on the size of your audience, but you can get started with as little as $10/month.
Conclusion
When you try to find an alternative option to ClickFunnels or any other software, there are usually more than enough to choose from. The most important thing is to figure out what features and processes it needs to support.
All online businesses have their own unique needs and processes that you need to support with the right set of tools and systems. You just need to find the ones that work for you.
I hope this article gave you some options to go and try out.
Disclosure: Some of the links in this post are "affiliate links." This means if you click on the link and purchase the item, I will receive an affiliate commission.